Vic Landscape Group is one of Melbourne's most respected landscape companies.
Our company has been built on strong values, ensuring that only the most professional product is delivered. This young and family owned business encompasses a highly skilled and experienced team of dedicated staff that have been involved in the landscape industry for over 25 years.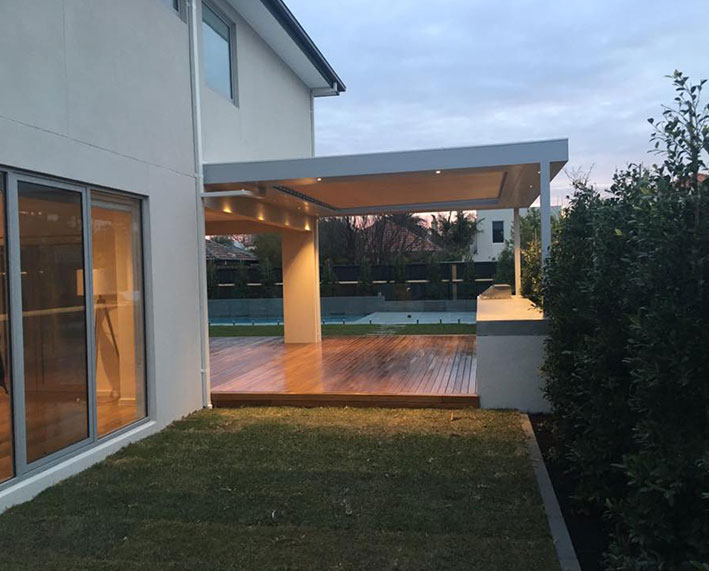 With the right landscaping, Patterson Lakes locals can have an outdoor area that forms a natural extension of their home. You fill your home with the things that you love, and the objects that reflect your own personal style. Why should your outdoor landscape be any different?
The team at Vic Landscape Group will listen to your ideas, and use their years of experience to design a tailored landscaping solution. From framing the front of your house with a welcoming front yard, to providing a tranquil backyard retreat, we create beautiful landscapes that meet our clients' varied needs.
Ask our friendly team about any of the following services:
Landscape Design
Landscape Construction
Swimming Pools
Building Permits & Drafting
Outdoor Rooms
Garages & Carports
Founded by Shane Gardner, who has over two decades of experience working in landscaping, the Vic Landscape Group is made up of passionate and highly qualified individuals seeking the very best for our valued clients.
Outdoor Rooms

Pavilions

Pergolas

Pool Houses

Gazebo

Garages
Let's build this together.
Vic Landscape Group work closely with architects, builders and other quality contractors to create the best garden landscape solution for each client. Vic Landscape Group prides itself on listening closely to the clients brief and producing a design which promotes the interaction of people and sustainable landscapes practices.
Offering Innovative Landscape Design, Landscape Pool Designs, and Outdoor Rooms, from a Team of Expert Pool and Landscape Builders
When you want to work with a team who create complete and harmonious outdoor areas, talk to Vic Landscape Group. We specialise in all areas of hard and soft landscaping – building structures that are solid and sound, and creating gardens that are designed to thrive.
You can talk to our team about all aspects of landscaping, including landscape pool design. Patterson Lakes locals can let us know about their ideas for the ideal outdoor area and pool landscape, and we will incorporate these into a uniquely tailored design. We can even update the landscaping surrounding your existing pool.
To talk to our experienced pool landscape builders, Patterson Lakes locals can contact Vic Landscape Group. We would love to hear your ideas, and to begin drafting a unique landscape design for you.